A new centre of expertise initiated in 2018 was officially launched to the public with a conference in Rotterdam on 5 July 2019. The Erasmus Centre for Data Analytics (ECDA) at Rotterdam School of Management, Erasmus University (RSM) had its official launch and announced its first official collaborations with international businesses at the sold-out event, the Erasmus Data Analytics Summit 2019.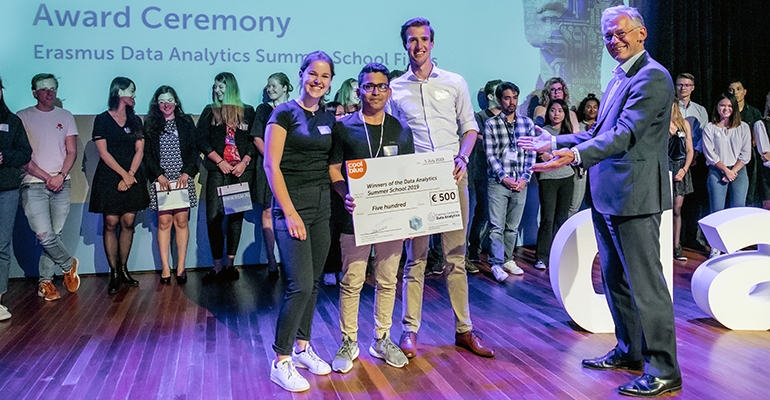 Keynote speakers included Frans van Houten, CEO Royal Philips on the potential for data analytics to improve healthcare outcomes. "We all have to deal with the proper treatment and meaning of data. We strive to make the world healthier and more sustainable through innovation. It is our mission to improve three billion lives a year by 2030. Data science and machine learning mean nothing in my world unless we do something meaningful with it," he said.
Professor Peter van der Spek of Rotterdam's Erasmus Medical Centre (EMC) presented the basics of bioinformatics using data analysis for personalised medicine. Van der Spek recently joined ECDA to collaborate on informatics and data analytics.
The Summit programme provided a snapshot of data analytics' and AI's impact on society, introduced the Centre's founding partners, and was designed to show ECDA's capabilities. It was also a great opportunity for networking. Other keynote speakers included: Willem Blom, director of data and intelligence at Dept, an international independent digital marketing agency; Dr Gwynn Sturdevant, data scientist at Volanno and member of RLadies discussed biased algorithms, data sets that may reduce bias, and methods to mitigate this bias; and Dr Adam Hill, lead data scientist at HAL24K, a data intelligence scale-up delivering operational and predictive intelligence.
Speakers and panellists represented a wide range of expertise at RSM:
ECDA is the data analytics response
ECDA was conceived as a response to the digital transformation going on in business, governments, and society. Modern life delivers so much useful data that can be analysed; the resulting scientific insights can be used to refine strategies and aid decision making. The Centre will explore business uses for digital applications and technologies, ultimately through student initiatives, joint research programmes between Erasmus University and other universities and academics, and collaborations with businesses.
Pieter Zwart, founder and CEO of Coolblue said: "At Coolblue, we measure everything. We continuously use this data to amaze our customers. As a partner of the Erasmus Centre for Data Analytics, we'll continue to exchange knowledge in the field of data analytics with academics and students. This won't only help us to become a little bit better with data every day, but it'll allow students to kick off their career by adding relevant analytical skills to their academic expertise. We want to challenge them to transform data challenges into even more happy customers."
ECDA's facilities on campus in Rotterdam will include a Data Lab in which expert analysts and students will research new methodologies and frameworks in data analytics. They will also run design-thinking projects and data hacking challenges. Data analytics technology for the Data Lab will be provided via co-operations with, among others, HAL24K, Synerscope, Tableau, Celonis and Wigdet Brain.
Founding partners
In addition to Coolblue, several other organisations recognised the importance of such a centre and joined as founding partner: Gemeente Rotterdam; ING Bank NV; Siemens; and Quint Wellington Redwood. ECDA operates as an interdisciplinary hub at the centre of a network of academia, corporates and other institutions, and will contribute to the education to new generations of managers and existing managers via bachelor, master and executive programmes.
Data Analytics summer school winners
The Summit also had an educational function as the concluding session for the first five-day Data Analytics Summer School for bachelor and master students at the university, hosted by ECDA and the Erasmus Tech Community. Frans van Houten, CEO of Philips, presented a cheque for € 500 to the winners of the case competition carried out during the Summer School. Chairman of the jury Dr Robert Rooderkerk, RSM's associate professor in supply chain analytics, praised the winners for the timeliness and accuracy they used when working out 'where Coolblue should open its next store'. The team of students – from several faculties of Erasmus University – were: Riccardo Cassini, Leon Hartkoorn, Ajmal Ifham, Hahn Mai and Denise Visser.
Companies and organisations interested in sharing ECDA's important insights in data analytics are invited to join its holistic network. For more information, see the ECDA website: www.rsm.nl/ECDA.
More information
Rotterdam School of Management, Erasmus University (RSM) is one of Europe's top 10 business schools. RSM provides ground-breaking research and education furthering excellence in all aspects of management and is based in the international port city of Rotterdam – a vital nexus of business, logistics and trade. RSM's primary focus is on developing business leaders with international careers who can become a force for positive change by carrying their innovative mindset into a sustainable future. Our first-class range of bachelor, master, MBA, PhD and executive programmes encourage them to become critical, creative, caring and collaborative thinkers and doers. Study information and activities for future students, executives and alumni are also organised from the RSM office in Chengdu, China. www.rsm.nl
For more information about RSM or this release, please contact Marianne Schouten, communications manager for RSM, on +31 10 408 2877 or by email at mschouten@rsm.nl.
Source: https://www.rsm.nl/about-rsm/our-campus/chengdu/news-1/14770-sold-out-summit-launches-the-erasmus-centre-for-data-analytics/